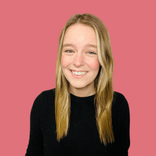 Anna Smith
Anna is a curriculum designer, educator, and event planner who believes that anything can be taught, and that learning should feel awesome. She's lived the power of transferable (and entrepreneurial!) skills as a non-profit leader, business owner, and public servant who has focused on innovating on the spaces in which we learn and come together for over 15 years.
Anna is the Director of Training and Skill Development at Venture for Canada, where she oversees the organization's entrepreneurial training programs and a vibrant team of ambitious, in-house trainers.
She is a proud Newfoundlander who thinks and speaks fast; has her best ideas by the ocean; and has always been inspired by the power of small, resilient, and genuine communities.
Be the first to hear about event updates