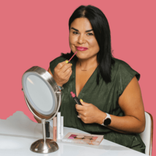 Jenn Harper
An award-winning social entrepreneur, Jenn Harper is the founder and CEO of Cheekbone Beauty Cosmetics INC. Cheekbone Beauty is a digitally native direct-to-consumer brand that is helping Indigenous youth see themselves in a beauty brand while using the concept of Life Cycle Thinking (LCT) in the brand's ethos and in developing products. Creating a new segment in the beauty industry - Sustainable Socially Conscious Beauty.
Jennifer Harper has been making a name for herself in the beauty industry for a number of years but has been gaining popularity quickly after being on the hit CBC show, Dragons Den in 2019. Cheekbone Beauty's mission is to help every Indigenous youth see and feel their enormous value in the world while creating sustainable cosmetics. Now available at Sephora Canada.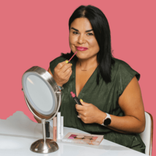 Jenn Harper
Founder & CEO @ Cheekbone Beauty Cosmetics
🧡 Helping the World See Indigenous Faces
Join Jenn Harper, the multi-award winning social entrepreneur as she takes you through the creation of Cheekbone Beauty and why representation matters. Cheekbone Beauty aims to help every Indigenous person see and feel their value in the world while developing sustainable colour cosmetics that won't end up in a landfill.
Jenn Harper is an Anishinaabe woman and is a member of the Northwest Angle #33 First Nation in Kenora, ON. Throughout her life, Jenn has struggled with accepting her Indigenous roots. She was estranged from her Indigenous family for much of her child and adult life. After learning about her grandmother's experience in residential school, she understood how her family was affected by generational trauma. Harper has been making a name for herself in the beauty industry for a number of years but gained popularity quickly after appearing on CBC's hit show, Dragon's Den in 2019. Since her appearance on the show, Jenn has been featured as Chatelaine's "Woman of the Year in 2019", Canadian Business's "2022 New Innovator's List", and Entrepreneur Magazine's "100 Women of Influence in 2022" list.