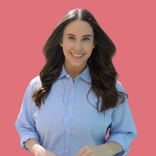 Dr. Sarah Saska, PhD, MA, BAH
As the CEO of Feminuity, Dr. Sarah Saska (She, Her, Elle) partners with leading technology startups through Fortune 500s to build diverse teams, equitable systems, and inclusive products and company cultures.
Before co-founding Feminuity, Sarah led pioneering doctoral research at the intersection of equity, technology, and innovation. Her research highlighted the need for companies in the technology and innovation sector to centre ethical and equitable design and became the inspiration for Feminuity. She continues to support the growing body of research on diversity, equity, and inclusion in the Canadian tech sector and for NASA's Astrophysics Division, where she evaluates inclusion, diversity, equity, and accessibility efforts for prospective scientific proposals.
Sarah is named amongst the Women's Executive Network's Top 100 Most Powerful Women in Canada in 2015, 2017, and 2021, The Bay Street Bull's Women of the Year in 2022, Culture Amp's list of "Diversity and Inclusion Leaders You Should Know" in 2018 and 2019, and amongst Peak's 2022 Emerging Leaders shaping Canada's economy, culture, and society.
She is a powerful TEDx speaker and has been featured on CBC's The National and Fast Company for her straightforward and actionable approach to the work.