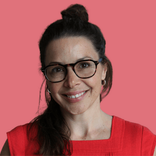 Gina Patterson
CPO at Venture for Canada, Gina was brought in to build VFC's $20 million work-integrated-learning program from the Government of Canada, and now leads all of VFC's programming and program staff.
Using a people-first approach, Gina has experience cultivating high-performance teams and designing programming to meet diverse stakeholder goals at the community, national, and international levels. Her areas of expertise include partnership development, leadership, project management and program delivery that enable and empower leaders, organizations and young people to change the world.
A strong believer in ambition, innovation and client-focused design, Gina equally values mindfulness, balance and high-trust relationships. Born and raised on Vancouver Island, she now resides on the traditional, ancestral and unceded territories of the Punamu'kwati'jk peoples, also known as Dartmouth, Nova Scotia.