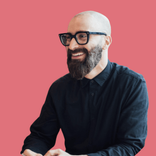 Simon Mhanna
With over two decades of experience in the design and innovation space, I have worked with leaders and teams to envision, research, develop and implement change initiatives on all scales. I have seen people from all walks of life choose to either lean in or shy away when that change is presented.
Throughout my career as a consultant, I have learned that change starts and/or ends at the crossroad of fear and courage, which led me to develop my coaching practice.
Today I combine consulting and coaching. As a consultant, I work with teams and organizations looking to design systems and processes to improve how they organize and work. As a certified coach, I enable people individually to view change as an opportunity to pursue rather than a threat to avoid.