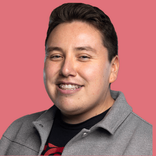 Cody Anthony
Cody Anthony is an Urban-Dene and the son of a sixties scoop survivor from Deh Gah Got'ie Kue First Nation. He's in his final year of his undergraduate studies at Toronto Metropolitan University, studying Business Management with an interest in Pre-Colonial Indigenous Entrepreneurship and Modern Economic Reconciliation. Cody is the founder of a student group, Ted Rogers Indigenous in Business and organized the first ever Reconciliation in Business Conference in September 2022. His vision was to bring forward the non-Indigenous and Indigenous community in Tkaronto to encourage each institution to respond to Call-to-Action 92 as a ways to support Indigenous self-determination, economic sovereignty, to close the socioeconomic gap, have the resources to fight against the many injustices, and to unlock the emerging $100 Billion Annual Indigenous Economy.
🚀 Gen-Z Leaders: Innovating for an Inclusive Future
Panel

—
From "Inclusi-ventures" to "Relation-ships", three diverse and inspiring Gen-Z leaders are set to take you on a journey of innovation and collaboration at this must-attend panel. Get ready to be inspired and equip yourself with the tools you need to lead the next gen of changemakers.