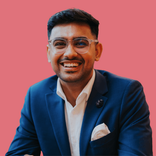 Mobeen Lalani
Mobeen is a first-generation professional, emerging health leader, and founder of a social impact organization. Built over the pandemic, Emerging Youth Consultancy (EYC) focused on building youth partnerships through design and strategy. EYC has worked with over 25 private and public sector organizations, facilitated over 20 design sessions, and held over 25 youth-led consultations with over 400 youth. EYC led the first youth-led vaccine clinic in East Toronto with a 20% first-dose vaccination rate amongst youth between the ages of 12-26.
Currently, Mobeen is an Account Executive at a health tech start-up, working towards un"locke"ing health and making care accessible through direct-to-patient solutions. Mobeen was recently recognized on The Peak's 2023 Emerging Canadian Leaders list, celebrating accomplished Canadians making a notable impact in their field. Over his career, Mobeen has sought to be in positions that have encouraged collaboration, are driven by social impact and are motivated to improve patients' quality of life.
🚀 Gen-Z Leaders: Innovating for an Inclusive Future
Panel

—
From "Inclusi-ventures" to "Relation-ships", three diverse and inspiring Gen-Z leaders are set to take you on a journey of innovation and collaboration at this must-attend panel. Get ready to be inspired and equip yourself with the tools you need to lead the next gen of changemakers.