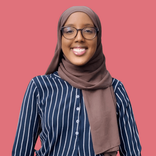 Habon Ali
Schwarzman Scholar, Canada's Top 100 Most Powerful Women
Habon Ali is a Schwarzman Scholar studying global affairs at Tsinghua University in Beijing, China. She is a systems thinker and connector who has been recognized as Canada's Top 100 Most Powerful Women. Habon holds a MSc in Global Health from McMaster University and graduated as Valedictorian from the University of Toronto with an Honours Bachelors of Science.
She advised Prime Minister Justin Trudeau for over two years while creating Canada's first National Youth Policy and developing Canada's Service Corps. Most recently, she has furthered social innovation projects at MaRS Discovery District, Opportunity for All Youth, Apathy is Boring, and Grand Challenges Canada.
Habon provides strategic advice to the Future of Canada Project at McMaster University which supports interdisciplinary research projects that will allow Canada to lead through challenging and uncertain times
🚀 Gen-Z Leaders: Innovating for an Inclusive Future
Panel

—
From "Inclusi-ventures" to "Relation-ships", three diverse and inspiring Gen-Z leaders are set to take you on a journey of innovation and collaboration at this must-attend panel. Get ready to be inspired and equip yourself with the tools you need to lead the next gen of changemakers.