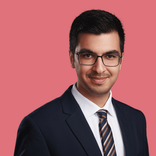 Hossein Raeisi
Hossein is a firm believer in lifelong learning and advocacy and gets a lot of energy from having a role in making things better with a focus on involving the people around him.
In 2018, he immigrated to Canada, knowing only a handful of people. So for the past 5 years, he sought opportunities to join ambitious and entrepreneurial communities like Shad and VFC Fellowship Program to meet like-minded people and learn from them. Nothing makes him happier than seeing people taking steps to improve their lives in whatever shape or form that may be.
During work hours, Hossein focuses on delivering a memorable customer experience to clients at Relay. Outside those hours, he connects with Western University alumni and shares their stories on the 'Humans of Western' podcast he co-founded while studying at Western. You may also find him passionately speaking about his Personal Finance learnings occasionally.
🦄 Expectations VS. Reality: Real World Wins
Panel

—
As a hiring manager, you want to find the cream of the crop. But in reality, it's more like finding a needle in the haystack. 'Expectations vs. Reality: Real World Wins' brings together recent hires and employers to share their experiences and provide real-world perspectives on the challenges and opportunities in today's hiring landscape.