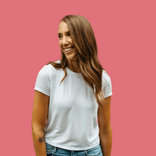 Sanja Mitar
Talent Acquisition Lead
@
Noibu
Passionate people leader with demonstrated expertise in global talent acquisition and helping companies scale.
Early in my career I realized my curiosity would lead me down many paths. I believe in order to be successful one must always be willing to enter into new situations, use resourcefulness and resiliency to overcome the uncomfortable till it becomes the new norm then, repeat the cycle.
What motivates me? Building things from the ground up and the prospect of learning and developing in more than just one area.
🦄 Expectations VS. Reality: Real World Wins
Panel

—
As a hiring manager, you want to find the cream of the crop. But in reality, it's more like finding a needle in the haystack. 'Expectations vs. Reality: Real World Wins' brings together recent hires and employers to share their experiences and provide real-world perspectives on the challenges and opportunities in today's hiring landscape.