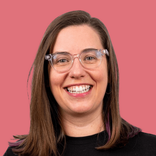 Jennie Sanford
Head of Human Resources
@
Fellow
I work hard and laugh hard. I love helping people any way I can.
🦄 Expectations VS. Reality: Real World Wins
Panel

—
As a hiring manager, you want to find the cream of the crop. But in reality, it's more like finding a needle in the haystack. 'Expectations vs. Reality: Real World Wins' brings together recent hires and employers to share their experiences and provide real-world perspectives on the challenges and opportunities in today's hiring landscape.