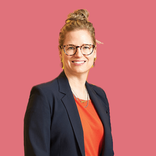 Kristine Beese
Kristine helps world-leading companies foster deeper relationships with the women, and fems, who work at their firm. By offering a women-centric approach to financial literacy and financial planning, not only does Kristine reduce women's biggest source of anxiety, she also helps companies demonstrate their commitment to gender-equality and helps their employees feel seen.
Kristine is a former national pairs-figure skater who brings tenacity and bravery to her role as a founder. A problem-solver by nature, her professional engineering designation helps her look at problems from a first-principle perspective. And with over a decade of experience in the finance industry, she brings the strategies employed by high-net-worth people to the masses. As a woman and a mother, Kristine has learned through lived experience in male-dominated industries that women experience the world differently from men. This is especially true of our personal finances.
As such, it was critically important that the solution that we developed at Untangle Money worked for women and is grounded on women-specific data.
🤑 Money Talks: What is Your Compensation Package Saying?
Panel

—
Ready to cash in on the secrets of compensation packages? From salary to benefits, equity to bonuses, our panel of trailblazers will decode what your package is really saying about your business – and help you make cents of it all!