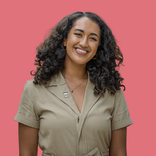 Trisha Neogi
Trisha Neogi is a Senior HR Consultant and Compensation Lead at Bright + Early. Taking the approach of modern HR, Trisha leverages her passion for inclusive design and her data-driven mindset to understand how people work, collaborate, and find validation in their roles. As Bright + Early's resident compensation lead, Trisha has developed our proprietary methodology for approaching pay for early-stage organizations. In addition to her consulting work, Trisha trains the B+E team on all things pay and is a frequent speaker on designing equitable compensation strategies.
🤑 Money Talks: What is Your Compensation Package Saying?
Panel

—
Ready to cash in on the secrets of compensation packages? From salary to benefits, equity to bonuses, our panel of trailblazers will decode what your package is really saying about your business – and help you make cents of it all!