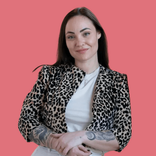 Nora Jenkins Townson
Nora is an unconventional HR expert specializing in the design of technical and creative organizations. After helping Canadian startups like Wealthsimple and Freshbooks grow, she founded Bright + Early, a consultancy of forward thinking HR experts on a mission to craft the world's best workplaces. Bright + Early has helped organizations like Mozilla, Mejuri, Endy and Kotn build inclusive, people-first organizations. Nora is also a frequent speaker and writer, and serves as co-editor of Early Magazine, a digital publication exploring the future of work. Nora believes that the best people strategies are human first and data informed, with a dash of design thinking.
🤖 How is AI Transforming the Future of HR?
Panel

—
Unlock the potential of AI in HR and discover its transformative impact on the industry. From the fascination of AI-powered systems like chatGPT to the fear of potential biases, join us to stay ahead of the curve in today's rapidly evolving HR landscape.