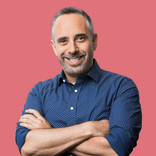 Jay Goldman
Jay is a New York Times best-selling author of The Decoded Company, Forbes Technology and HBR Advisory Council Member, and Co-Founder and CEO of Sensei Labs.
Jay thinks he might be the luckiest guy in the world because he got to co-found Sensei Labs and spends his days working hard to invent the Future of Work alongside his amazing crew. He's focused on technology, design, and the art of leadership. In addition to writing here, Jay co-wrote the New York Times Bestseller THE DECODED COMPANY: Know Your Talent Better Than You Know Your Customers (Portfolio/Penguin), cooked up the O'Reilly Facebook Cookbook, and contributed to the Harvard Business Review. He frequently speaks to teams and companies about the Future of Work, including at TEDx, NASA, Harvard Business School, Google and Twitter's World Headquarters.
📅 TGIF: The 4-Day Workweek
Panel

—
Say goodbye to the 9-5 (or 6 or 7…) and hello to the 3-day weekend! Join us to learn how to implement the 4-day workweek at your business, without sacrificing your productivity. Get ready to transform your company culture, attract top talent and stay ahead of the competition.