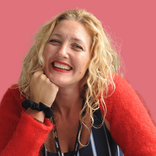 Tonya Surman
Tonya Surman is fuelled by her belief in the power of collaboration and belonging. She knows that putting the right people in a room is only the first step in creating real change. You also need to build a culture where everyone knows they have value and a voice to radically redesign our futures. She did this with the Constellation Model, an entirely new take on governance. She did this with the Centre for Social Innovation, which re-invented the workplace by collecting social purpose organizations under one roof. She did this with Community Bonds, an innovation that allows a nonprofit to turn their social capital into financial capital. She knows building relationships between people is the foundation for a better world.
📅 TGIF: The 4-Day Workweek
Panel

—
Say goodbye to the 9-5 (or 6 or 7…) and hello to the 3-day weekend! Join us to learn how to implement the 4-day workweek at your business, without sacrificing your productivity. Get ready to transform your company culture, attract top talent and stay ahead of the competition.